Steven Gizzi Music
Composer for Media × Music Producer × Recording Artist
"Steven Gizzi specialises in moulding different genres and feelings together into one cohesive palette."
- Simon Smith, Higher Plain Music
Steven Gizzi is an award-winning composer, producer, and recording artist based in Los Angeles, specializing in music for games, film, television, and other multimedia experiences. He believes in infusing fresh, innovative techniques with an old-school attention to detail and devotion to the craft.
He began studying classical piano privately at an early age, and since then has composed and performed music for solo piano, rock band, orchestra, choir, jazz fusion groups, and everything in between. He spent four years at the University of Miami studying film composition and music production under Emmy-winning composer Chris Boardman.
Steven's credits include multiple short and feature-length films, mobile game apps, virtual reality experiences, and several years of work on the popular Cartoon Network show LEGO NINJAGO: MASTERS OF SPINJITZU alongside acclaimed composers Jay Vincent and Michael Kramer. He most recently wrote and produced the original score for PIPE, a post-apocalyptic film directed by Max Isaacson, and EVERY NIGHT, a new web series from LA-based production company Misfit Toys. In 2016 he also contributed music to the score for HOPE SPRINGS ETERNAL, a coming-of-age film starring Mia Rose Frampton.
Previous projects include his work as orchestrator and music producer on indie feature film DATING DAISY, his collaboration with David Krystal on the glitchy electronica soundtrack for CATALYST - a mobile puzzle game app, and his musical contributions to the upcoming sci-fi thriller SEAM, directed by Rajeev and Elan Dassani.
As a solo artist, Steven released his debut album THE TERRESTRIAL ORCHESTRA in March 2014 after spending the winter hibernating in his hometown of Richmond, Virginia. It is a true passion project in which he draws influence from the fundamental elements of nature to create a musical journey like no other. He is currently working on his second album, which will further develop and explore his uniquely cinematic electronica style.
Steven's self-proclaimed goal through music is to aurally sculpt multi-dimensional worlds, weave together richly crafted webs of transformative emotion, and immerse the individual within an authentic storytelling experience like no other. He is always on the lookout for exciting new endeavors with other creative professionals who share his passion.
FILM SCORES | PIANO WORKS
Seam
Short Film
Steven contributed original music to the gritty, action-packed score for SEAM. A sci-fi short, a chase, a love story, and an epic battle, set and filmed in the cities and deserts of the Middle East. Written and directed by Elan & Rajeev Dassani. View the full film here on Vimeo.
Pipe
Short Film
PIPE is a short film set in a post-apocalyptic world where the remnants of human civilization have broken down into primal tendencies, and the last survivors in this barren landscape must fight for their right to survive. Directed by Max Isaacson and written by Jackson Lanzing and Collin Kelly, with original music by Steven Gizzi and Jay Vincent.
Hope Springs Eternal
Independent Feature Film
Steven contributed original music to, arranged, and mixed the score for HOPE SPRINGS ETERNAL, an upcoming feature film produced by Gylden Productions. The film stars Mia Rose Frampton in the lead role as a high school student struggling with cancer, learning to live life to the fullest.
Every Night
Original Web Series
Original music by Steven Gizzi. EVERY NIGHT is an unsettling dramatic sci-fi series, following two lonely souls in their journey to understand the bizarre occurrences that routinely disrupt their daily lives. Directed by Jackson Lanzing and written by Rick Baer. Streaming now on Vimeo.
Dating Daisy
Independent Feature Film
Steven orchestrated and produced the original score for DATING DAISY, the feature-length film debut of director Neel Upadhye, which had its Los Angeles premiere on November 7th, 2015. The visceral and subtly nuanced score was composed by Jay Vincent. Now available worldwide on Amazon and iTunes.
Lego Ninjago: Masters of Spinjitzu
Animated TV Show on Cartoon Network
Steven has worked as music editor and written additional music on the popular animated show LEGO NINJAGO: MASTERS OF SPINJITZU for the past several seasons. Seasons 1-4 are available for streaming on Netflix.
Catalyst
Mobile Game App for iOS
Steven co-wrote and produced original music and sound effects for CATALYST, a puzzle game app developed by Lucid Sheep Games. Available now for iPhone.
LEARN MORE
→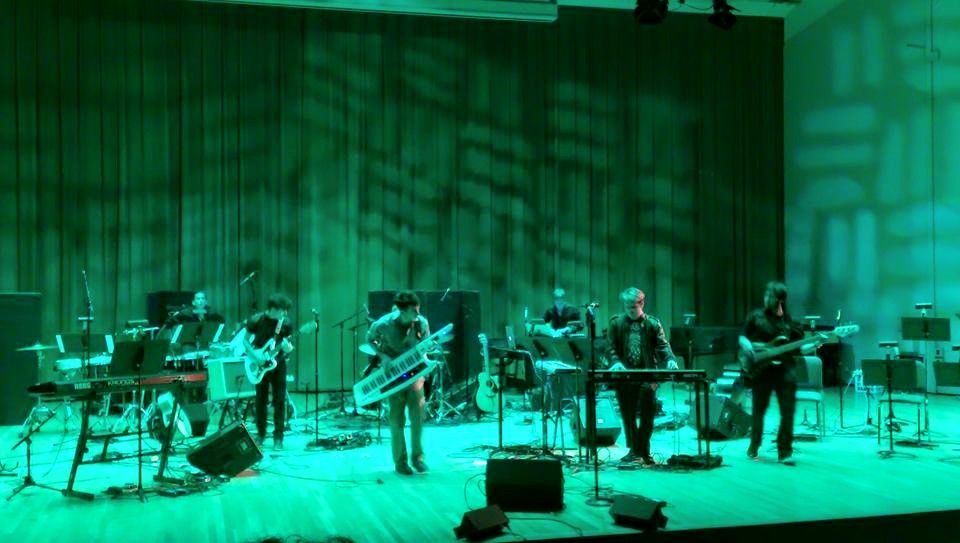 The Terrestrial Orchestra
Released March 25, 2014
The Terrestrial Orchestra is the product of a solitary winter season spent hibernating in the studio. I've changed a lot both personally and musically over the past several years, and the unifying theme that's seemed to permeate throughout this change is that everything is ephemeral. The rhythm of life is never static; by its very nature it is both evolutionary and cyclical. With that in mind, I wanted to take some time to myself and create a musical snapshot of my life in that instant, to preserve a brief period in my development.

The album is a composite of all of my main musical influences over the years - progressive rock, electronic, jazz, film and video game soundtracks, and the indigenous music of many cultures around the globe. Its purpose is centered around what I believe to be one of the most essential capacities of music - the ability to tell a story. With The Terrestrial Orchestra I've created five pieces of music, each one representing a classical element of nature - air, water, earth, fire, and human consciousness. Four attributes of the natural world, followed by a fifth, less tangible element that can't easily be defined. Music at its core is a manifestation of nature, and I aim to tell the story of how humankind has interacted with this natural phenomenon through the ages.
Let's Talk.
I'm always eager to meet boldly creative people and collaborate on inspiring new projects.
Feel free to contact me via email or social media for any and all professional inquiries.